Sundarlal Bahuguna looked like a sage. All his actions brought us close to Nature and made us realize our ties with the environment. He dedicated his life to saving the environment and was known as the Nature Saviour
The coronavirus pandemic is causing us infinite loss. The virus is taking away many good people. One such person is Sundarlal Bahuguna.
Bahuguna breathed his last on May 21, 2021. Cartoonist Satish Acharya paid homage to Bahuguna through a cartoon that conveys his greatness in one image. It shows trees weeping over the passing of Bahuguna, who used to hug trees to save them.
Some years back, when trees were going to be cut for the Mumbai Metro project, some people went and hugged them. You may have read about it. A similar movement was taken up in Bengaluru too!
These events are from the past couple of years but their inspiration is the Chipko Movement of 1973… and the man behind this movement was Sundarlal Bahuguna.
Bahuguna was born on January 9, 1927 in Tehri taluka of what is now known was Uttarakhand. He spent his childhood in the midst of the beautiful and majestic Himalayas. That is why he loved Nature since childhood. His father, Ambadutta Bahuguna, was working in the forest department of Tehri-Garhwal region.
From a young age, Bahuguna was greatly influenced by Mahatma Gandhi's thoughts. He followed Gandhian principles all his life.
Therefore, he carried a message of non-violence towards Nature and jungles. He realised that there was a great need to save nature and tress in Himalayas.
The locals were dependent on the jungles. The women would go into the jungle to gather things for their livelihood. In the 1970s, the government granted permission to a private company to cut trees in the Alaknanda Range to make sports material. Local women and villagers strongly opposed this decision. When the people from the company came to cut the trees, the women hugged the trees. If you want to cut the trees, you will have to chop us first, the brave women told the company workers. This became the Chipko Movement.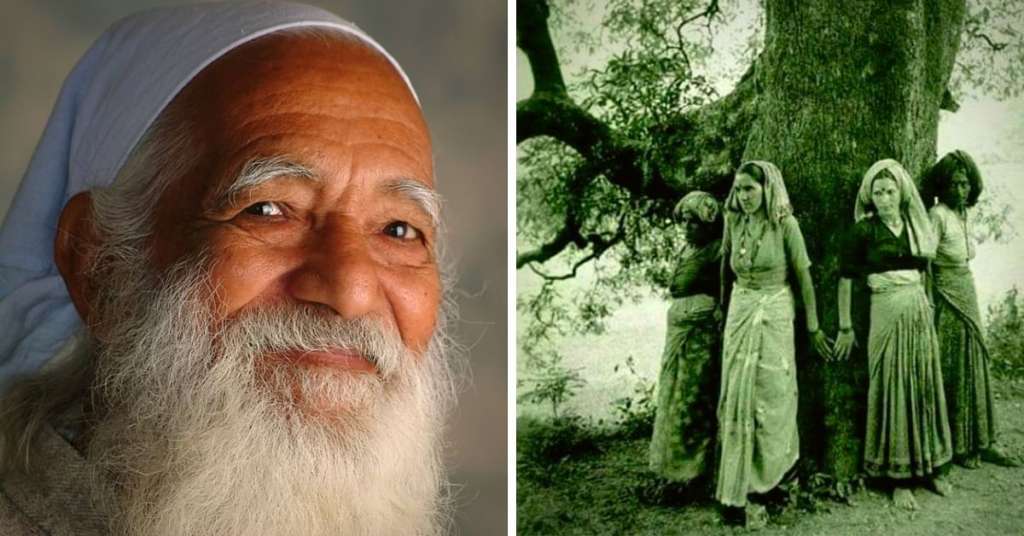 Sundarlal Bahuguna took this movement to a larger scale. It spread from the Himalayan region to the country and across the world.
He appealed to the then Prime Minister Indira Gandhi to stop the tree cutting. Because of his movement, there was ban on tree cutting in this area for 15 years from 1980. From 1981 to 1983, he started a 5,000km march from Chamba Langora village of Himachal Pradesh with a "Save Environment" message.
Immediately thereafter, the government proposed to confer Padma Shri award on Bahuguna but he gently turned it down. Then, after many years, in 2009, the government honoured him with Padma Vibhushan.
Bahuguna also opposed the Tehri dam project in 1990 and had been in jail for it in 1995.
'Ecology is permanent Economy' was Sundarlal Bahuguna's principle. It means that environment and Nature are assured economic systems. Today, when trees are being mercilessly cut in the name of development, the passing away of this environment warrior is a great loss.
Bahuguna's Written Treasure Dharti ki Pukar (Call of Earth), The Road To Survival, Environmental Crisis and Sustainable Development
Subscribe to NisargaRanga